With the
Forum Cleanup
feature it's easy to delete a large number of threads, posts, and/or Personal Messages.
To access the Forum Cleanup feature go to the admin area and select the
Security
option. Then select
Forum Cleanup
on the following menu.
On this page you can choose to delete either posts, threads, or personal messages by a specific member or by every member of your forum depending on the criteria you choose.
Use caution when calculating
what
to delete by a specific member:


Posts - will delete all posts only by that member. The remainder of the affected threads remain intact.
And Threads Started - will delete all threads started by that member AND all the posts in those threads regardless of who made the posts.
And Personal Messages Started - will delete all conversations started by that member including parts of the conversation made by other members.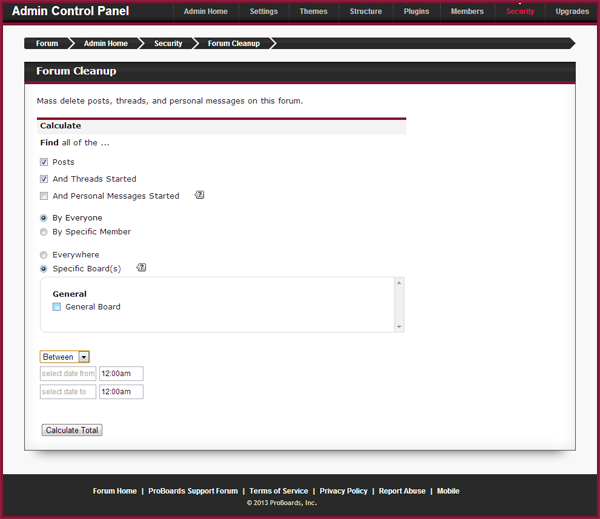 You can also choose to only delete content in specific boards on your forum if the content is isolated to particular areas. Selecting a particular board does not automatically include its sub-boards. Those would need to be selected as well.
If your forum has somehow suffered a recent spam attack by a malicious user you can delete posts made before or after a specific time as well as posts made in between two times via the dropdown at the bottom of the page.
Once you've made your choices the page will calculate the total amount of threads, posts, or personal messages that match your criteria before asking you to delete them. Once you've confirmed you want to delete the content verify the deletion by typing "Delete" in the specified field and ticking the box acknowledging that the content you're about to delete cannot be recovered or restored once deleted.
Be careful when using this feature, as it's possible to unintentionally delete a large amount of your content if an incorrect selection was made on your part.