Relationship Status v1.3.0
By
Wormopolis
// Overall Rating

10 Votes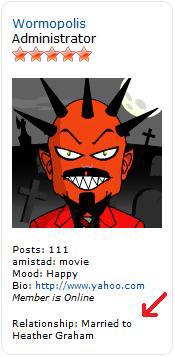 Visit the library from your admin panel to directly install plugins.
Version Updates
v1.3.0 - May 4, 2017

v1.2.7 - August 28, 2014
v1.2.7
Edit Profile now shows custom label name
v1.2.6 - January 31, 2014
v1.2.6
fixed bug where a linked user's relationship was displaying incorrectly
v1.2.5 - January 3, 2014
v1.2.5
webkit AJAX fix using cheat
v1.2.3 - November 5, 2013
v1.2.3
wrapped label with <label></label> tags for CSS targetting
v1.2.2 - October 17, 2013
v1.2.3
changed from parent to closest div.mini-profile search
v1.2.2 - July 16, 2013
v1.2.2
fixed data exploit
v1.2.0 - June 3, 2013
v1.2.0
changed to new pagination function
added profile display
added back in @username(displayname) option
v1.1.8 - May 28, 2013
v 1.0.131
initial beta release

v 1.1.0
added in tab for key permissions.

v 1.1.1
fix on members without data saved causing escape from loop

v 1.1.2
fix to make it work on conversations and recent posts

v 1.1.4
chrome fix because chrome just had to be different

v1.1.5
request to make label optional completed

v1.1.6
pagination added in!

v1.2.0
linked accounts using @username(displayname)
Why are you reporting this item?
Malicious Code
Inappropriate Content
Stolen Content